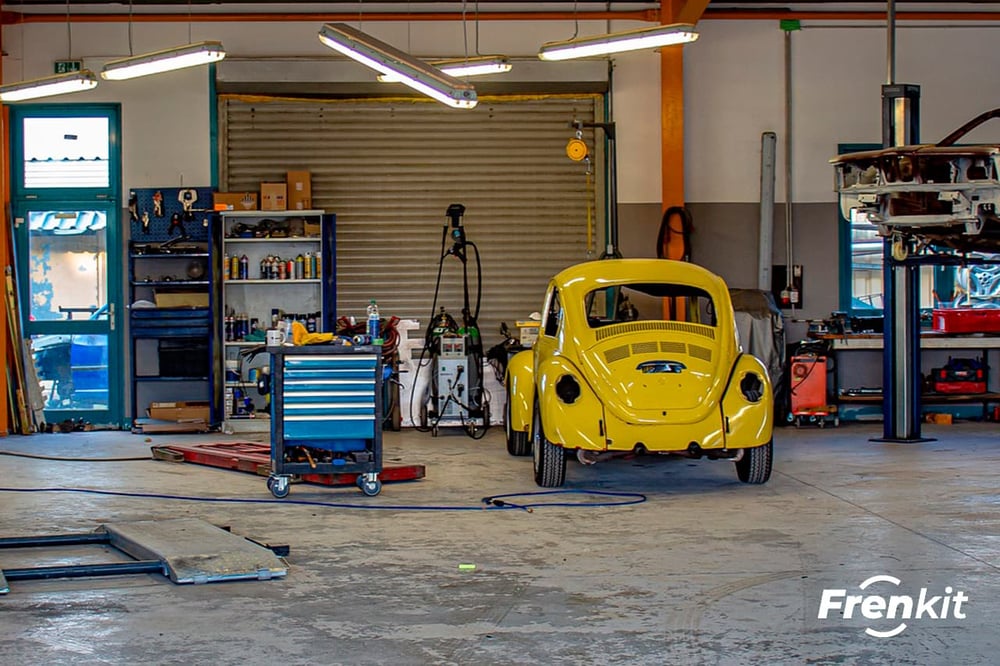 Sometimes, instead of repairing our vehicle on our own, we may need to go to a specialised garage and outsource the repair of the brake caliper and pump.
As well as simpler repairs, we can also encounter much more complex and difficult repairs, which end up requiring more professional and expert repair workmanship.
If you want to find out what are the advantages and disadvantages of outsourcing the repair of your car's brake caliper and brake pump, don't hesitate to keep reading this post by Frenkit to discover them!
Why it's important to outsource your car repairs
When we outsource the repair process, what we do is hire the services of a garage or professional who carries out the repair of a series of damages or flaws in our car. There are many types of workshops: some are more general and others specialise in bodywork and paintwork, wheel repairs or electrical repairs, for example. All of them have a series of professional mechanics who will be in charge of studying, repairing and, finally, detecting the breakdown of our vehicle.
In the event that we are not able to carry out the repair ourselves, we can outsource this process to a workshop that will help us to repair the brake calipers and brake master cylinders of our car. Both the calipers and the master cylinder are components that are found within the braking system of a vehicle and it is therefore essential that both work correctly, as this will ensure that the vehicle manages to stop when the driver presses the brake pedal.
Pros and cons of outsourcing brake caliper and master cylinder repairs
As drivers, we must be aware that any defect or anomaly in our vehicle's braking system can increase the likelihood of an accident.
From Frenkit we recommend that, if you are not able to repair your car's brake caliper or pump yourself, you should look for a professional and trustworthy workshop that will take care of the repair.
Disadvantages of outsourcing brake caliper and pump repairs
Lack of speed. Sometimes, when we go to a trusted garage to repair our vehicle, it can happen that, due to a series of circumstances, the garage takes a long time to repair our car. This inconvenience can be due to several reasons: the part takes too long to arrive, the garage has too much work or there is not enough manpower to repair the vehicle, among others.
Increased repair costs. It can happen that when you take your vehicle to a garage for a routine check-up, problems or damage appear that end up increasing the bill for what was initially a simple check-up.

Advantages of outsourcing brake caliper and pump repairs
Quality products

. Many garages have a wide range of quality products. In addition, in the event of not having the necessary components to repair the vehicle, garages have suppliers such as Frenkit, experts in manufacturing and distributing brake components for passenger cars and light vehicles, who can supply the necessary parts to repair each vehicle model, without the need to change the brake caliper or master cylinders completely.
Professionalism and high quality finishes. If we go to a repair shop with our vehicle due to a breakdown, we can be sure that, by going to fully qualified professionals, the repair will be correct and of high quality. In addition, if over time, the calipers and master cylinder break down again, we will have the guarantee of the workshop to solve any damage completely free of charge.
At Frenkit we are committed to offering our customers the best service. That is why we have a wide range of products in stock, which allows us to supply our components and parts in a short period of time.
What are you waiting for? Access our catalogue with more than 9,000 references that we distribute in more than 50 countries around the world.