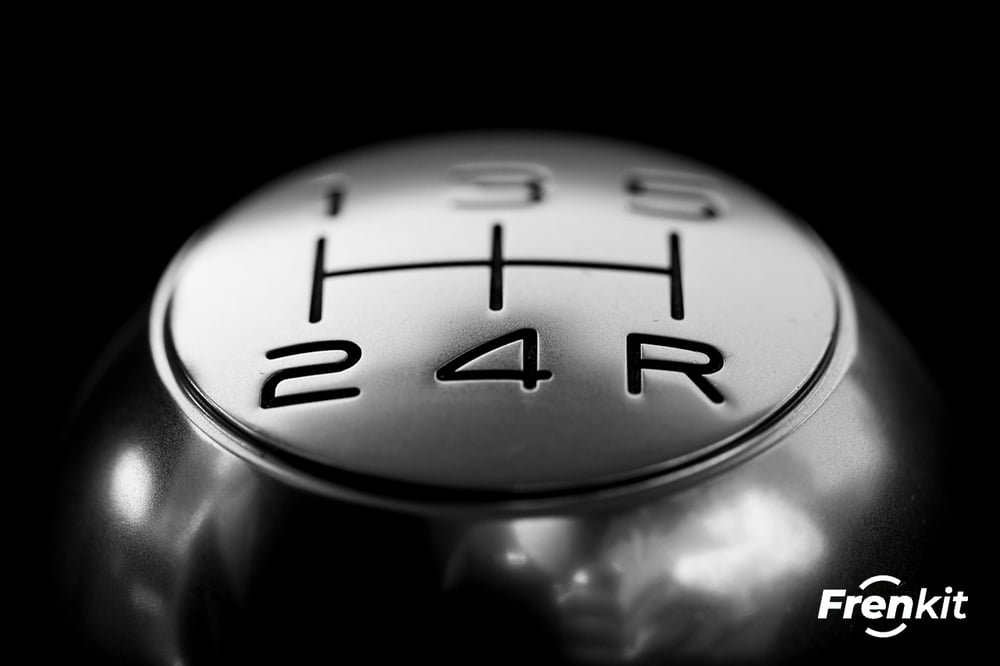 When a part of our vehicle breaks down, we often have doubts about what is the best option, whether to fix it or look for a replacement part or repair kit ourselves because we have the necessary knowledge and experience or, on the contrary, to take the car to the garage for a more professional assessment.
If we decide to repair or change the brake caliper ourselves, we may encounter the problem of not being entirely clear about which spare part is the right one, or not knowing how to find it. It is therefore important to know what a brake caliper is or the types of brake caliper that exist.
It is important to be clear that it is not so easy to identify which is the necessary part for our car, as each one has a different reference or identification code. The component or reference of each car is not usually the same in all cases, as it may vary depending on its appearance, the material it is made of, etc.
In this Frenkit post we will show you how to identify the reference of the brake caliper or brake pump of a car and where to find the reference of the part. Read on to find out more!
How to identify the reference of a brake caliper or pump
There are several identification codes or references to identify the part of a vehicle that can help us to establish part numbers:
OEM reference
The Original Equipment Manufacturer (OEM) reference, which translates as Original Equipment Manufacturer, is a part that is 100% original equipment manufacturer and has been approved for use in vehicles of a particular make or model.
OE reference
The Original Equipment (OE) reference, which stands for Original Equipment, has the same quality as a component with OEM reference, but the price is lower, as in this case the make or model is not taken into account. The difference between a manufacturer of OEM parts and a manufacturer of OE components is that the original equipment manufacturer of the OEM reference is also a manufacturer of OE references for other brands.
IAM reference
Independent Aftermarket (IAM), this type of parts are not part of the original system of the car. At Frenkit we work with this type of code following OEM or customer specifications. One of the advantages of IAM parts is that, even if the original brands stop manufacturing certain parts, the Independent Aftermarket references are still produced. Unlike OE and OEM references, IAM replacement parts are parts produced by other manufacturers but meet the same requirements as OE/OEM references.
VIN reference
Another code that can help us to identify the part numbers of our vehicle is the chassis or frame number, also known as the VIN code. With this 17-digit number we can identify a car, as it is unique. Thus, we will know the number of owners, the problems the car has had or if it has been sold illegally, for example. This code can be found on the windscreen, under the bonnet or on the driver's door, for example.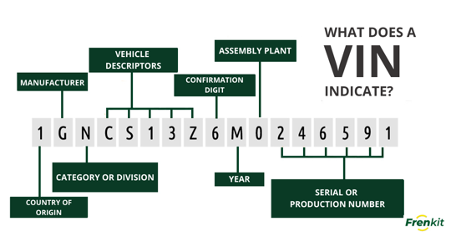 Where to find the part number
Now that we know how to identify the part number of a brake caliper or brake master cylinder when it breaks down, the next step is to know how and where to find these parts.
The first thing to be clear about is that each brand has a different way of coding the references of the original parts, as there is no specific pattern for each number. For this reason, at Frenkit we propose two very simple options that will help you to speed up the process of searching for a brake caliper or brake pump model, among others:
Use the Frenkit search engine
The second option to correctly identify the part number of your brake caliper or pump is to access our website and select the make, model and type of vehicle. If you know the part number, you can also enter it in the search engine. Once you have completed the fields or entered the part number directly, you must select one or more categories at a time, such as brake pumps, front or rear calipers, clutch pump or drum, for example.
Next, you will be able to see all the repair kit references we have available at Frenkit for your model and type of vehicle. The last step is to click on the repair kit you need and click on 'Buy', where we will calculate your shipping costs and then you can enter the payment method of your choice.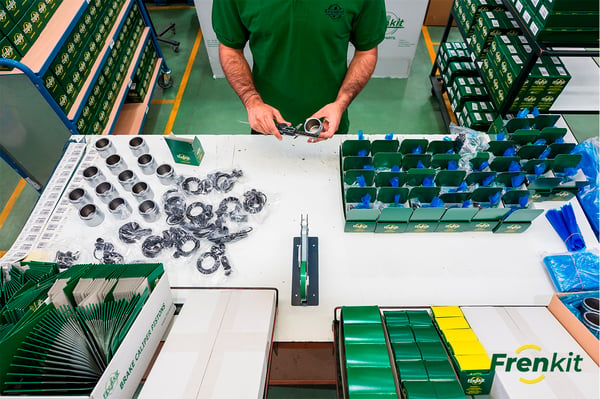 Contact the specialised components department
In case you can't find the part number or you have difficulties finding the part you need to repair your brake caliper or brake pump, Frenkit gives you the possibility to contact our technical service. Once we have collected your query as detailed as possible, we will proceed to search for the requested part model internally and, if we find it, we will let you know as soon as possible.
Our technical assistance department works by identifying references of original parts and suppliers that will then be cross-referenced with our stock. Therefore, if any of the parts you need do not exist in our database, Frenkit is committed to finding the reference you need.
In addition, at Frenkit we carry out an identification of the repair kits that we divide by families and references. Each of these families starts with a different reference: the brake pump repair kit starts with 1 and the brake caliper repair kit starts with 2, for example.
Now that you have learned how to identify the reference of a brake caliper or pump, it is important that you keep in mind that at Frenkit we are committed and work to include new references daily, with the aim of improving our range of available products. In our online shop you can choose from more than 9,000 references and filter by different types of products.
See also our blog where we talk about everything you need to know about brake components, such as the types of clutches in car.